Regret Letting Your Real Estate License Expire? We Have Your Back!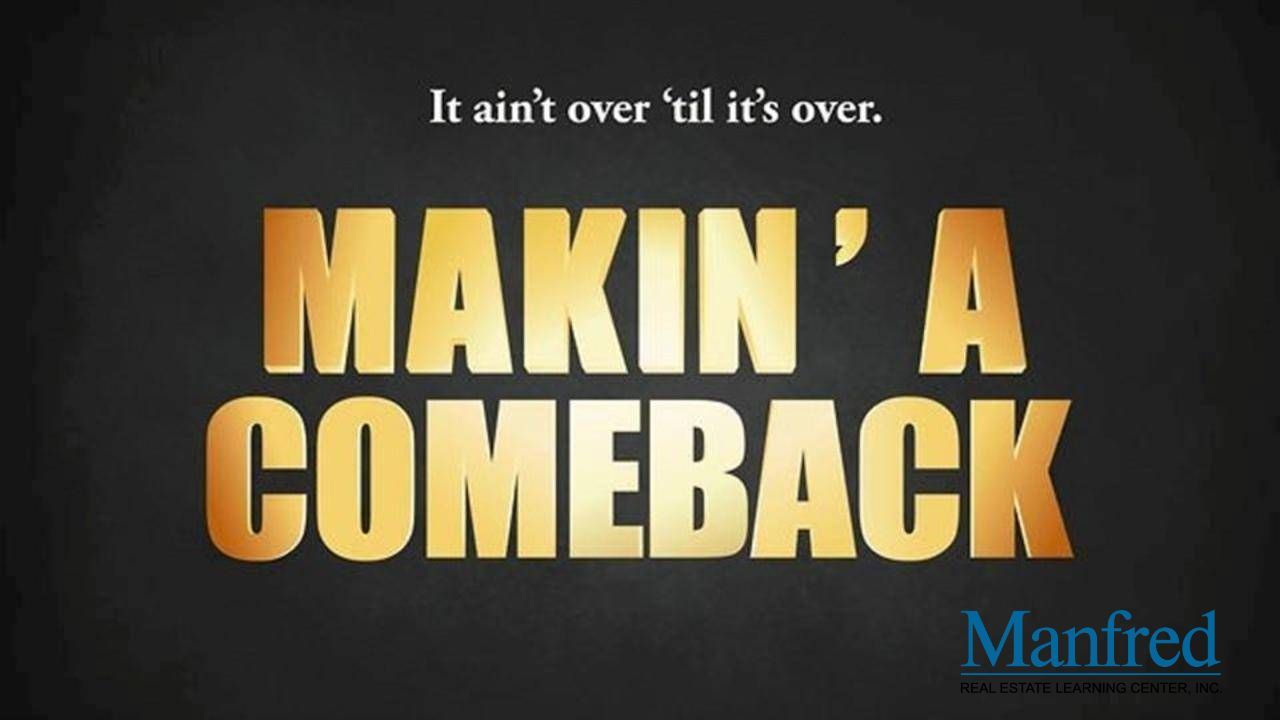 Life Happens! You Let Your Real Estate License Expire:
If you have let your Real Estate license expire, you are not alone! The Manfred School has been a source of education and guidance for many people who have allowed their license to expire over the years.
There are so many different reasons why licenses expire. There are even more reasons to get back in the game, especially now! We understand, life happens! That is why we are dedicated to equipping you with the correct information and the right education to make your comeback!
Why Is This a Great Time to Renew Your License?
Despite the corona-virus crisis and headlines in the news the real estate market continues to be cyclical roller coaster, what part of the movie do you want come in at? There will always be people looking to buy and sell homes. One way to ensure a steady income and flourishing career is to become an expert in an industry that will never fade away. Real Estate is not just a fad. It is here to stay and in some ways is getting even stronger given the current events.
Perhaps it was not the best time for you to start your new career when you first obtained your license. Now, you may find yourself out of a job because of the current state of things and you want to take your career back into your own hands. Or, you might have been thinking about getting your license back for a while and there is no better time than the present. If you are finding yourself with extra time right now, why not invest in your education and your future? You can even fulfill your requirements if you are still working right now. Either way, this is your dream and we are here to support you.
The Ever-Changing New York Requirements.
Now that you are looking to get back into the industry, you should be aware that the requirements to obtain and maintain a license have likely changed since you last practiced real estate. New York is always changing the rules, guess they want to be different than everyone else? It can be tough to keep up with the changes, especially when your not in the business! Next up, we outline exactly what you need to do given whatever your situation is.

What Specific Steps Do You Need to Take?

First, please be aware that on July 1st , 2008, the required Salesperson Licensing Course went from being 45 hours to 75 hours. This means that depending on which of the following situations pertains to you,
you may need those additional 30 hours and/or prepare for test questions on the state exam from the new curriculum. Also, on December 21, 2022, the state added a 2 hours continuing education course on fair housing and/or implicit bias, now we have a 77 hour Salesperson licensing course.

If Your License Has Been Expired for Less Than Two Years

All you need to do is complete 22.5 hours of real estate continuing education, including 3 hours of fair housing, 1 hour of law of agency, 2.5 hours of Ethical Business Practices, 1 hour of Recent Legal Matters, 2 hours of Cultural Diversity and 2 hours of Implicit Bias training and renew your license with a sponsoring broker. NYS keeps moving the cheese and adding more required topics, no surprise here!
If Your License Has Been Expired for More than Two Years BUT You Can Prove That You Were Once Licensed
Regardless of whether you took the 75-hour course or the 45, all you need to do is retake the state exam. Please keep in mind that the state exam will include questions from all 75 hours of curriculum. Therefore if you took your course prior to 2008 or you have not taken the course in a while, it may be beneficial to retake the 77 hour Salesperson licensing course or at least purchase a textbook so that you are prepared on all of the topics you need to know. Don't forget to complete the additional 2 hour of Developing Cultural Competence need effective December 21, 2022, it's a questions that will be asked by the Department of State when you apply for your license.
If Your License Has Been Expired for More than Two Years and You Cannot Prove that You

If you were once licensed BUT you can prove that you took the 75 Hour Salesperson Course?
You will need to retake the state exam. It is probably a good idea to purchase review material or a textbook to refresh yourself on information. Don't forget to complete the additional 2 hour of Developing Cultural Competence in New York effective December 21, 2022, it's a questions that will be asked by the Department of State when you apply for your license.

If Your License Has Been Expired for More than Two Years and you Cannot Prove that you Were Licensed but Can Provide the Original 45 Hour Salesperson Licensing Course

You will be required to take a 30-hour remedial course and school exam and retake the state exam. Again, the state exam will cover all 77 hours, so review materials and/or the full course is recommended. Or it may be beneficial to just take the 77 hour Salesperson course.
How Long is the 75-hour licensing and the 30-hour remedial course good for?

Both courses are valid for 8 years from the course completion date. If you do not obtain your license within that time frame, you will need to retake the course. Once either of the courses is used to obtain a license, they do not expire and can be used as stated above or to upgrade your license.
How Do I Prove I Used to Have a License or that I Took A Course in the Past?

It is your responsibility to prove that you were once licensed (your school will not be able to prove it for you). You may have your pocket card from the past to do so. To prove you have taken a course in the
past, you should either have a certificate of completion from the school you took the course from or you can call your school and see if you can get a duplicate certificate.
Where Can I Find the Required Continuing Education and/or Licensing Courses?

Luckily, we have all the resources you need to reinstate your license and get your career back up and running. For continuing education, we recommend the Manfred Member program, which is the best value. Now there a more NY Required Topics than ever before, why not get unlimited and FREE continuing education? Also, 50% OFF all Brokers Licensing Courses. Don't settle for just any ol' program - aim for one that works! Who says bettering yourself has to be boring?
Whether you're just getting started, need to grow revenue, or want to change direction, Manfred Real Estate Learning Center, Inc. can help you with a detailed and effective Real Estate business plan. From sales, to logistics, to finance, we can help you see the big picture, sort out the details, and everything in between. Give us a call or text us at 518-489-1682, we are happy to help. You can also take advantage of our free "Look Before You Leap" online course or purchase a printed copy of our book "Real Estate Business Launch: New York Edition
Your success is our success. We look forward to helping you invest in yourself and your future.